미국 | [Closed] 7/31&8/1-Online-Workshop- EM-Coffee Break Online Small Group …
페이지 정보
작성자

Coffee Break

작성일

20-06-29 21:36 조회1,200회 댓글0건
본문
Coffee Break Online Small Group Leadership Workshop for EM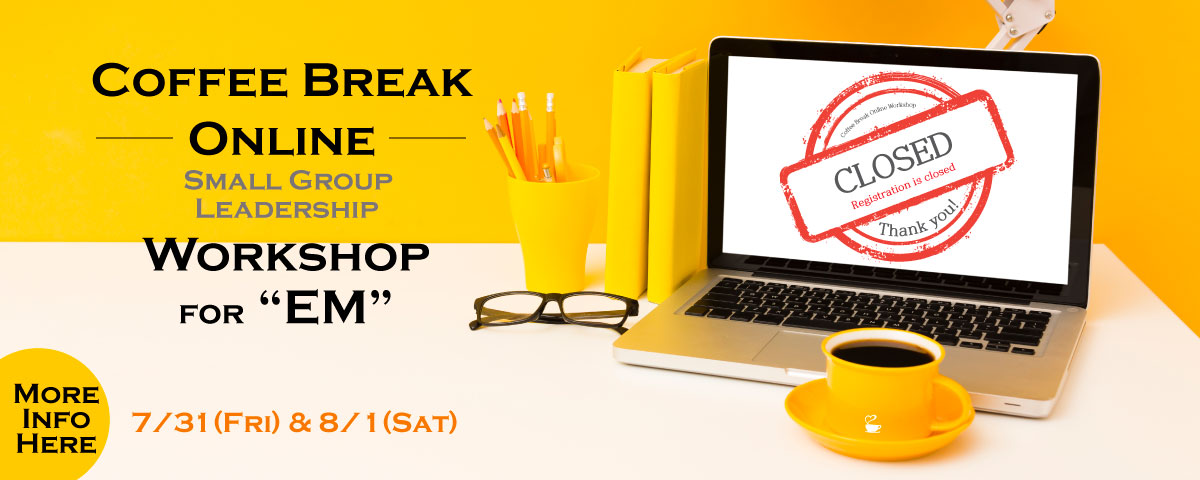 Greetings!

We would like to invite you to the 'Coffee Break Online Small Group leadership workshop'.
This workshop is designed for English Speaking Ministry Group via zoom. 

Coffee Break is an outreach-oriented, small-group Bible study for anyone.
Using an informal, low-key approach, Coffee Break encourages people to discover for themselves what the Bible says and means for their lives.
The two 3-hour training sessions will provide hands-on training for leaders interested in leading a Coffee Break small group. The following four modules will be emphasized in these training sessions: Small Group Principles, Discover Your Bible (DYB) Method, Evangelism through Small Group, and Situation Responses.

     This workshop is divided into two 3-hour sessions
      1st session      7/31 (Fri) 10AM PDT/ 11AM MDT /1PM EDT
      2nd Session     8/1 (Sat) 10AM PDT/ 11AM MDT /1PM EDT
♥ Registration Fee: $35 Registration Fee for Pastors & Pastor's Spouse: $25
[Registration and Progress] 
A. Click the following link for the registration
▶▶▶▶ Coffee Break Online Small Group Leadership Workshop For EM ◀◀◀◀ 
B. Once all the registrations are confirmed, E-File for the workshop will be emailed.  
C. Pre-workshop information and Zoom Link will be sent by Email. Note that Email from (info@KoreanCoffeeBreak.org) can be filtered in spam or promotion
♥ Registration shall be opened from 6/29 up to 35 registration.
♥ Workshop led by Coffee Break Workshop Trainer : Jennifer Choe & Kyu "Q" Paek